Daniel Delany was a man of great faith, courage and prayer, fortitude and fidelity. A Priest, educator, strategist, Bishop and visionary. He was born in Ireland and lived in a time when Penal Laws and persecution plagued the lives of Catholics. In the time of Henry V111 and Elisabeth 1 monasteries, churches and convents were confiscated.
The visible evidence of the 'church' may have been destroyed, but the spirit was enlivened. Daniel knew what it was to live out his faith in hiding. As a young boy he went to school near hedges in the fields where one could quickly run and hide if they saw soldiers coming. This cat and mouse existence only strengthened the resolve of Daniel to become a priest and serve the people of Ireland. Penal Laws forbade Catholics to go abroad to further their education. At the age of 16 Daniel was smuggled out of Ireland by good protestant friends.
He enrolled in the University of Paris where his intelligence and ready wit were soon recognised. He won the highest distinctions the University could grant. Back in his homeland the Penal Laws had relaxed somewhat. In 1777, Father Delany returned to Ireland in disguise, he was then 30 years old, his mother and aunts had not seen him for 15 years. Naturally their joy was tempered with caution, as priests were still outlawed.
The Penal Code impoverished and degraded the people, reducing them to depravity and hopelessness. Crime, vice and violence flourished, education was almost non-existent and their spirits were broken. Under such circumstances, how could Father Delany fan the spark of faith still left in the people into life?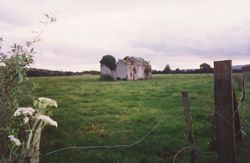 The Remains of Daniels Home.
He turned his attention to the children, who loved music. He started a choir on Sundays and gradually formed classes where he taught hymns, prayers and the catechism. He taught the children to read and write. Little by little, the bitterness and anger that had filled the lives of the adults, began to wane and they too wanted to join the classes.
Six years after returning to Ireland Father Delany was appointed Co-adjutor Bishop of Kildare and Leighlin. Love for the Blessed Sacrament was the ruling passion of his life. Even though the Penal Laws had been relaxed, danger and fear still existed. That didn't deter Bishop Delany, he introduced public Corpus Christi processions and in 1790 he established the Confraternity of Christian Doctrine.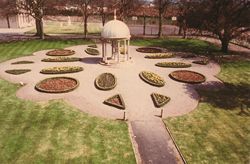 The Dome, Tullow Grounds.
Daniel found it difficult to keep the teachers he had trained. They either grew tired of the task, gave up, married, moved away or died. The only way out, was to establish a Religious Congregation a group of women who would not only teach in the Sunday Schools, but who would undertake the secular education of children, rich and poor alike. He was determined to restore the Order of St. Brigid, but the insurrection of 1795 put the idea of founding a convent out of his mind for sometime.
The difficulty of obtaining land pushed the idea further away. Circumstances made impossible for Daniel Delany to re-establish a convent in Kildare. Finally both land and a building became available in Tullow, eight years after his dream of establishing a Congregation of Sisters. So it was on the first day of Spring, 1 February 1807, the feast day of St. Brigid, six women gathered in Tullow to reclaim their spiritual heritage and their little of Brigidine. Soon after the foundation, Bishop Delany took a sapling that had grown from St. Brigid's oak in Kildare, and, in a simple ceremony re-planted it in the Tullow grounds. By this symbolic gesture he signified that link between Tullow and the original monastery in Kildare. That mighty oak still stands in the Tullow grounds to this day.

Oak Tree, Tullow Grounds.
Many difficulties faced the six women in the early days of convent life, but they persevered and gradually more women came to join them and their numbers grew. In 1812, just five years after establishing the Brigidine Congregation, it became clear the Bishop was not well. In 1813 as his house was in need of repair, the Sisters prepared a room for him in the convent, there they attended to his every need. It was there, while Mass was being said in his room and with the Sisters all around him, that he died at 2.00am on 9th July, 1814.
The young Congregation was on its own, but it had been built on a strong foundation and with the vision of Bishop Daniel Delany before them, their numbers grew and today Brigidine Sisters can be found in Ireland, England, Wales, Texas, Boston (USA) Kenya, Australia and New Zealand.
Sayings of Daniel Delany
Love God and live together in peace and charity.
What you are those who come after you will be.
Do ordinary things extraordinarily well.