Pioneers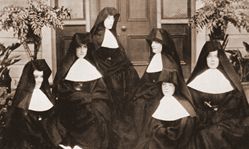 Srs. Patrick, Claver, Teresa, Gertrude, Brigid & Joseph.
Six Valiant Women. Four Sisters came from the Cooma community - Sisters Gertrude Banahan, Brigid Desmond, Joseph Flahavan and Patrick Phelan. Coonamble, the first Southern Hemisphere foundation, loaned two Sisters Teresa O' Flynn and Claver Cooke. Common characteristics were evident in the six Sisters , their faith and prayerfulness maintained a spirit that did not count the cost of sacrifice. Generosity with time and talent, courage and perseverance, all these traits were essential for the success of a new foundation.

The "Monowai" arrived in Wellington from Sydney on Wednesday 14th December 1898. Archbishop Redwood, Father Devoy and Father McKenna were waiting on the wharf when the ship berthed. The travellers were taken to the Mercy Sisters Convent in Hill Street. Early on the morning of Friday 16th December they boarded the train for Masterton, Father John McKenna accompanied them, they received a great welcome at the station and at the convent, where many parishioners had gathered.
Their mission in Masterton had begun, and a promise made in 1883 by a young Irish priest, Father John McKenna, on the "Chimborazo" had been fulfilled.
Masterton
The 6 pioneer women, Sisters Gertrude Banahan, Brigid Desmond,Teresa O'Flynn, Claver Cooke, Joseph Flahavan and Patrick Phelan arrived in Masterton on Friday 16 December 1898. The Sisters received a great welcome from the Church Committee. These women were well educated and well able to offer a religious and literary education second to none. Two Sisters began to teach in the relocated St. Patrick's school on 24 January 1899, and St. Bride's High School opened 10 days later on 2nd February 1899. These events were followed by an even more joyous occasion when, on Sunday 12 February 1899, the Convent was officially opened and blessed. Father John McKenna had kept his word. Obstacles and difficulties were always present - there was always a way around them. Steady progress was made, both St. Patrick's and St. Bride's High Schools' rolls increased. Extensions to buildings took place and a novitiate was established for the training of young women who wished to become Brigidine Sisters. On Christmas day 1903 two women commenced their training as Brigidines. Not only did the schools begin to grow, the ranks of the Sisters also increased steadily year after year. Divine Providence, can provide, Divine Providence did provide.
(More)
Pahiatua
Early in 1905 Father Tom McKenna, parish priest of Pahiatua asked the St. Bride's community for Sisters to staff the school he planned to open the following year. Four Sisters arrived by train on 29 January 1906. Sisters Brigid Desmond and Margaret Mary from Masterton , and Sisters de Sales Maher and Alphonsus Burke from NSW. As no Convent was ready the Sisters took up residence in the Presbytery that became their home for the next 6 years. Great rejoicing took place when the new Convent for the Sisters was blessed and opened on Sunday 8 December 1912. The temporary school in the "mission&quot room belonging to the Anglican Church came to an end in 1919. The new St. Anthony's school which stood, debt free, on the property beside the Convent, was blessed and opened, by Archbishop O'Shea on Sunday 27 April 1919.
(More)
Foxton
In 1909 Father Kelly had been appointed in charge of the newly established parish in Foxton. In 1910 the Sisters responded to a request from him for a Brigidine community to teach in a school not yet erected. Sisters Raphael Doyle, Paul Truman and Benignus Lynisky came from St. Bride's in Masterton. The Convent was not quite ready, so the Sisters stayed in the Presbytery. St. Mary's school began in the church on 2 February 1911. On 13th February the finished Convent stood as a beacon of hope on the hill for all to see. The new St. Mary's school was completed and opened on 1st September of that year. A new era of Catholic Education had begun in the flax town of Foxton.
(More)
A New Neighbour - Carterton
Negotiations began for the setting up of a Convent and School in Carterton on 5th April, 1908. Many delays and obstacles had to be overcome by the then Parish Priest, Father Bowe and his parishioners who were anxious to provide a Catholic school for their children. It was not until 1916 that Father Michael O'Beirne, brother to Sister Michael O'Beirne, was able to open a two-roomed brick building named St. Mary's School. Sister Michael and two extra Sisters from NSW staffed the little school, it was not until 2 April 1917 that the Sisters moved into their new Convent. The idea of establishing a school in Featherston, surfaced in 1937. On 2 February 1954 a single room was rented in an Auction Mart and partitioned to provide two areas. Two extra Sisters from Carterton were picked up each day by a roster of Featherston Parents and driven to school. This awkward situation was remedied when the parish purchased a small car for the Sisters. On the 18 March 1955 the Sisters, pupils and parishioners rejoiced when the much longed for St. Teresa's school became a reality. There was much to be thankful for. The road had been long and hard.
(More)
Johnsonville
On 3rd May 1928 Father Griffin, Parish Priest of Johnsonville invited the Brigidines to staff a new school in his parish. Two Sisters left St. Bride's on 16 January 1929 for Wellington, where they enjoyed the hospitality of the Mercy Sisters. They were joined by two more the next day. The four Sisters took up residence in a forty year old, borer ridden house. M. Evangelist McKenna, M. Teresa Bourke, M. de Chantal Keogh and M. Benignus Lynsky. The house had been vacant for some months, so the Sisters set about tidying a room as a temporary "shakedown". Much cleaning, scrubbing and urgent renovations followed in the days ahead. There was much joy in their hearts when a new three-roomed school and 109 pupils greeted them in the first week of February, 1929. The community of Sisters grew and so did the need for a new Convent which was begun in February 1937 and officially opened on 1st August. A chapel was added later and the whole complex was blessed on 13 November of that year. It was all worth it, and God was good.
(More)
Auckland
In 1948, Bishop Liston of the Auckland Diocese invited the Brigidines to staff Mt. Carmel School in the parish of Meadowbank. Sisters Michael Henry, Aquinas Johnson and Dominica McKenna left Wellington for the long train journey to Auckland on 23 January 1952. For several days they enjoyed the hospitality of the Sisters of Mercy. It was not until 30 January 1952 that the 3 Sisters moved into 42 Bassett Road, Remuera. The Sisters were not living in the parish they worked in. Travelling caused many problems. A car was generously donated for the Sisters' to use. Father Bowling, Parish Priest of Orakei, asked for extra Sisters to staff his school in 1956, but it was not until 1958 that three more Sisters joined the Auckland Community and St. Joseph's school, Orakei, was on the map! Following in the wake of this celebration came the opening of the much awaited new Convent at Meadowbank, on 29 November 1959.
(More)
The Porirua Basin
The Tawa Parish was established in 1951 and covered an area as far as Porirua and Titahi Bay. Father Connor was anxious to have Brigidines Sisters to staff schools in his parish. St. Francis Xavier's opened in Porirua on 8 February 1953 in a two-roomed prefabricated building. The opening of Pius X School at Titahi Bay followed. Johnsonville Convent was bursting at the seams! A Convent built for 10 was housing 18 Sisters. A cottage was found out in Titahi Bay and 8 Sisters moved out from Johnsonville in stages. The living conditions were anything but desirable. The Sisters laughed their way though the hardships and the promised new Convent at Porirua East was blessed and opened on 1 Navember 1959. Holy Family School in Porirua East opened in 1960. The population continued to mushroom and the need for a Catholic Secondary College in "The Basin" became necessary. Archbishop McKeefry envisaged two autonomous Colleges on the one campus each with its own Principal. The Assumptionist Fathers and Brigidine Sisters were asked to staff this bold and unique initiative. On 4 February 1968, Viard College was born. The College was named after the first Bishop or Wellington. This was only the beginning!
(More)