In the lush midlands south west of Dublin lies the tiny town of Tulllow in the diocese of Kildare and Leighlin.
In 1807, on February 1st, the Feast of St. Brigid, six women responded to an invitation from its Bishop, Daniel Delany to dedicate themselves to a life of prayer and education of the poor.

On that day they made their way from their homes in Tullow and its surrounding farms to the simple building beside the church that the Bishop had built for them. It was on this day that he planted in the Tullow grounds a sapling he took from St. Brigid's oak tree in Kildare to symbolise the link to that ancient place of learning and Celtic Spirituality.

Without fanfare, without market research and certainly without a strategic plan, the modern story of the Brigidine Sisters began. In the beginning, Daniel Delany had a dream and Frances Kinsella, Eleanor Dawson, Brigid Brien, Eleanor Tallon, Judith Whelan and Catherine Doyle shared that dream with him. They were poor women and without formal education, but like Bishop Daniel Delany, they too wanted to improve the lives of those who lived in the shadow of the Penal Laws. The need for education and the revitalization of the faith in Ireland, was tremendous. Dream-driven, Bishop Delany, with the help of those 6 women, who ranged in age from 29 to 48, set about opening up pathways to freedom for the poor, by providing free education for adults as well as children. (Anita Murray CSB NSW)

He dedicated the Sisters to Mary, the Blessed Virgin and chose Brigid as their patron saint, calling the first members of this revitalised congregation after the ancient order of St. Brigid, Brigidine Sisters.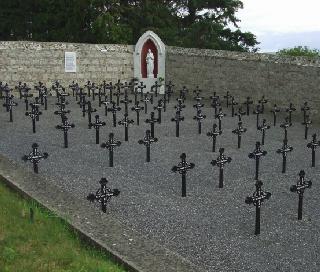 Crosses in Tullow cemetery

Bishop Delany lived only 7 years after he set up this fledgling group, one of the first congregations of religious women to be founded in Ireland since the Reformation.

He entrusted this small group to Miss Judith Wogan-Browne, an Irish women from a wealthy family who had been educated in a Benedictine Convent in Belgium.

She never became a member of the Congregation, but used her wealth and wide social contacts to train and educate these first members of the Brigidine Congregation. She lived in the Convent with them, dying there at the age of 93 and is buried with the Sisters in the Convent cemetery in Tullow.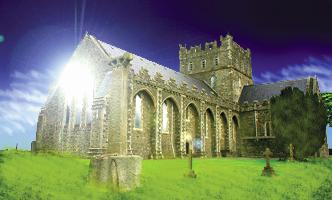 The Sisters quickly grew in number and were much sought after, not only in Ireland, but in other parts of the world as well. The first group of six Brigidines to leave Ireland were asked by the Bishop of Maitland to come out to Coonamble in N.S.W. Australia in 1883, followed by another call for six more Sisters to come to Victoria in 1886. Then in 1898 Father John McKenna appealed to the pioneering spirit of six more Brigidines to come across from Australia to Masterton, New Zealand. The six were; Sisters Gertrude Banahan, Brigid Desmond, Teresa O'Flynn, Claver Cooke, Joseph Flahavan and Patrick Phelan. So the branches of Daniel Delany's oak, planted in Tullow in 1807, began to spread far and wide.(Sacred Journey of the Oak)